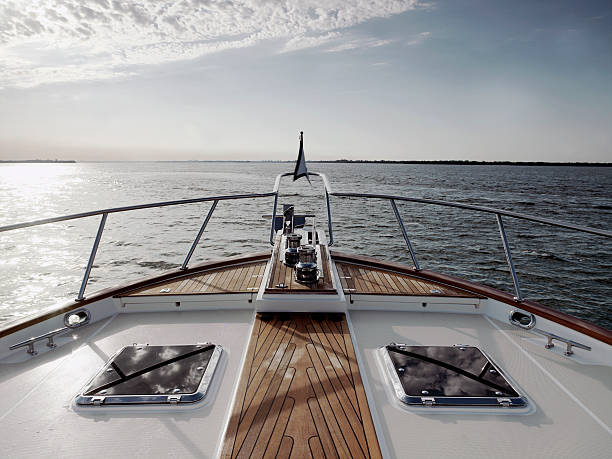 Those who own a boat know that it is more difficult to take care of a boat than a car because a boat has to remain constantly in water. More effort and care are required when maintaining a boat, either it is boat's maintenance, insurance, or protection. It is impossible for someone to do the maintenance of a boat by himself. He requires an expert and professional team which make sures that the boat is in its peak conditions. Now, the question arises from where can one find such a professional and expert team? The answer is simple: Bay Marine.
We provide the best platform from where you can have your boat serviced with the best results. Your boat has to remain in water for a very long time, either it has to take you and your loved ones to a trip, or it has to carry your goods over long distances. Due to intense travelling in water, the external structure of your boat is exposed to a variety of water conditions like salt water, fresh water etc. All of these different water conditions can cause the exterior of your boat to fall victim to corrosion and other damages. In such cases, Bay Marine steps up to solve this problem. We provide you with the best marine coatings which will protect your boat from all kinds of waters.
Our marine coatings are water proof and due to this, they prevent your boat from not only corrosion, but also keep it intact from damage for a very long period of time. Our coatings are of high quality and are durable and they will protect your boat from the attack of waters and so will increase the reliability of your boat. We know what is best for your boat and we offer the best services so that you can be fully satisfied with the outcome.
While choosing a coat for your boat, some things must be kept in mind. First of all, the coating must be of high quality, so that it can fully protect your boat's exterior. Secondly, it should have good adhesiveness so that it does not wear off, once in waters. Thirdly, it should be durable so that it can protect your boat for a considerable length of time. We are proud to say that we fulfil all of these requirements of quality, durability and lasting protection.
Applying an outer coating is must for any boat, but it would be best if you choose the best platform for this. If you choose us, then we assure you that you will not be disappointed with our services because for us, the satisfaction of our client comes first and we do everything we can to make sure that we fulfil our promise of quality with reliability. Why waste your time and money on local platforms when you can have the best team to get your work done? That is why we suggest you to get in touch with us if you want to get your work done regarding your boat either it is maintenance, or marine coating.
For more visit: https://baymarine.net.au